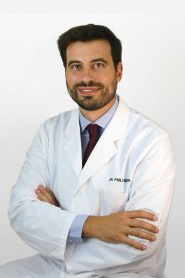 Dr. Pablo Espinosa Calleja
Academic training
Degree in Medicine and Surgery, University of Valladolid. Physician specialist in Oral and Maxillofacial Surgery.
Specialist in Oral and Maxillofacial Surgery via MIR, University Hospital October 12, Madrid. Course 2005 – 2010.
International University Expert in Orthognathic Surgery, by the International University of Cataluña.
Expert in:
Dental Oral Implant and Maxillofacial.
Advanced Temporomandibular Articulation Surgery.
Orthognathic Surgery.
Oncology Surgery and Reconstructive Surgery.
Facial Traumatology.
Scientific publications/communications
Awarded by the San Nicolás Foundation of the Royal Spanish Academy of Medicine to the best Bachelor's degree (2004).
AO Fellowship Grant at Johns Hopkins University and University of Maryland, Baltimore, in reconstructive surgery and facial traumatology (2009).
Attendance at courses and conferences
University Course: Specialization in Surgical Treatment of the Temporomandibular Joint by the Spanish Society of Oral and Maxillofacial Surgery, at the European University Miguel Delibes.
Scientific Society to which it belongs
Member of the Spanish Society of Oral and Maxillofacial Head and Neck Surgery.
Languages