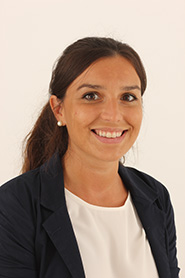 Dra. Laura Garcinuño
Academic training
Degree in Dentistry at the University of Alfonso X el Sabio, Madrid. Course 2009–2014.
Master's degree in oral surgery and implantology. Universidad Alcalá de Henares, Maxillofacial Service, from september until july 2014-2016.
Attendance at courses and conferences
2018
Course Update on bleaching techniques to achieve the highest predictability, Dr. Juanjo Iturralde. 2018
Course Management of periimplantitis and management of special patients, Dr. Chema Delgado. 2018.
Multidisciplinary Aesthetic Planning Course, Dr. Vicente Berbís. 2018.
Course of Soft Tissue Management by temporary restorations, Dr. Herminio. 2018.
Venipuncture course and its application in regeneration in oral surgery with Endoret technique (PRFG). 2018.
2017
Course of improvement. Update in Periodontics. University of Santiago de Compostela. 2017.
Course in Endoret technology (PRFG) for facial rejuvenation aimed at dental specialists. Eduardo Anitua training institute. Vitoria-Gasteiz, 2017.
Theoretical-practical accreditation course filled with infiltration hyaluronic acid. Madrid, 2017.
Theoretical-practical course in ITI oral implantology. Valencia, 2017.
Theoretical-practical modular course of prosthetics on implants. Madrid, 2017.
Intensive course mucogingival surgery. University of Valencia, 2017.
2016
New technologies Course. Digital solutions in daily practice a multidisciplinary approach. Madrid, 2016.
Update course in implantology. Controversies in dental implantology. Satellite course Dr. Fouad Khoury. Chiron University Hospital. Madrid, 2016.
2014
Theoretical-practical course of oral surgery on corpse heads. University of Valencia, 2014.
Scientific societies to which I am partner:
ITI Member.
SEPA Member.
Languages
Spanish: high level (language of origin).
Catalan: high level. C level.
English: medium level.